IMVU Desktop – Everything you Need to Know 2022
IMVU Desktop is a not-so-new desktop chat software that was released to prepare for Apple's new version of macOS where Apple announced they will no longer support 32-bits apps (the IMVU legacy chat software is a 32-bits app).
In order not to lose all the apple IMVU users, IMVU had to act fast, so they created the IMVU Desktop chat software which was released as a beta desktop application for Mac users only.
If you wish to try the public beta of the new IMVU Desktop app, simply click on any of these links to get it installed: https://secure.imvu.com/next/download/ or https://www.imvu.com/download.php.
IMVU Windows Users
IMVU Studio has been designed to be available for Windows and macOS operating systems as a Private Beta. if you don't like the ugly interface of the new IMVU site you can easily switch back to the old IMVU interface.
To switch, click your avatar name icon on the top right corner, and on the drop-down menu that appears select the option to switch to Classic, this will reset your homepage to the original design.
IMVU Desktop Beta Features
The IMVU Desktop Beta has just about the same features as the old version of IMVU. The only outstanding additional feature is the shop features; you no longer need to open a web browser when you shop as all shopping will be within the app. You'll still be able to shop by categories and creators, you will also get a 3D preview of your shopping items.
Difference Between IMVU Classic and Desktop
The major difference between IMVU classic and IMVU desktop is down to the operating system they created it for. IMVU desktop chat software was designed for Mac OS users. IMVU account holders with Mac Os and Windows operating systems can use IMVU classic.
How Do You Download IMVU Desktop
To download IMVU desktop click one of these links; https://secure.imvu.com/next/download/ or https://www.imvu.com/download.php. Please be aware that you need windows 7 or later for a successful download.
IMVU Desktop Website
Requirements for using IMVU Desktop Website
Obviously, you'll need a reliable broadband connection, there are also some Operating system and hardware requirements you need to meet to successfully run IMVU on your computer.
IMVU Desktop Download Mac
Below are the Operating System (OS) and Hardware Requirements for running IMVU on your computer.
You'll need a Mac OS X 10.7 or later.
2. You need a minimum of 2 GB RAM, Intel Core 2 Duo, Intel GMA 950 video card. If you own a Mac Mini or later you have nothing to worry about
IMVU Desktop Download Windows
1. You'll need a Windows 7 SP 1 or later.
2. You'll also need a 1 GHz Processor, 512 MB RAM, Intel GMA 950 video card, or better, 2 GB free disk space.
If you have had enough of IMVU, you can read this article on how to delete an IMVU account.
IMVU Classic Website Installation
The IMVU Avatar Chat software is also known as the Classic Client. It offers a great way for IMVU users to meet, chat, and play with people around the world using your unique 3D avatar.
The IMVU Classic website is one of IMVU's many features that are entirely free-for-all IMVU users to download and use. Before you can be able to access the chat module, make sure that you have the 3D Client properly installed. There are some other free websites/apps that might interest you. You can sign up for Wattpad (a story or novel sharing platform).
If you'll like to use the IMVU classic website follow the steps below, this way you will be on your way to being a part of the exciting IMVU community!
1. Click on this link to download the IMVU Classic website, choose the right link for your operating system, and then save it to your computer
2. Open the downloaded file and then click run to start the installation process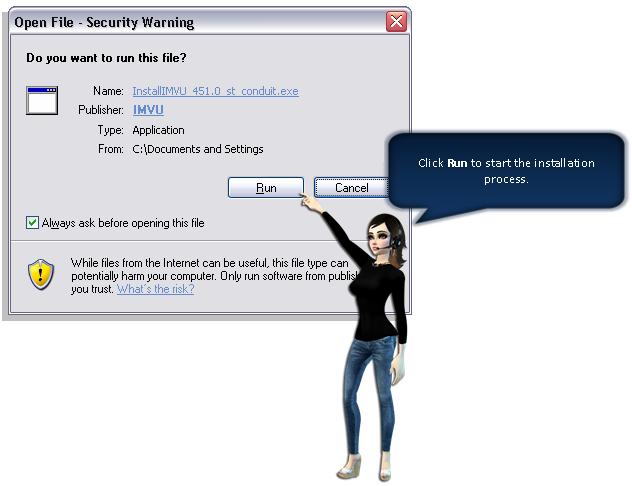 Once the installation is complete, wait for the IMVU login screen to appear and then log in to your account by entering your username and password, and then click Login.