How to Cancel Truthfinder- 7 Easy Steps!
TruthFinder offers one of the best ways to learn more about almost anyone online. In this article, I will share how to cancel TruthFinder subscription and your TruthFinder account. TruthFinder is very similar to Spokeo, they offer similar services. you can also cancel Spokeo subscription if you have one.
How to Cancel Truthfinder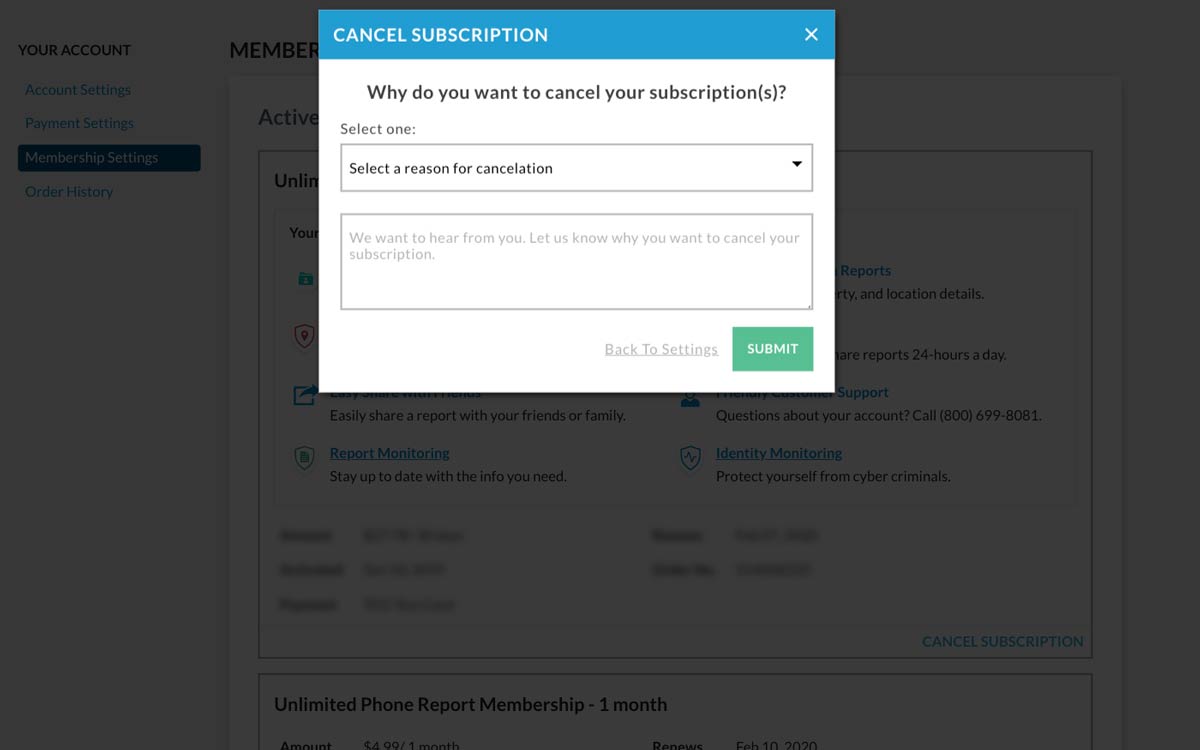 Log into your TruthFinder account on the website.
Tap account at the top right corner.
From the drop down menu select Membership Settings.
Tap Cancel Subsription just below the subscription page.
Select a reason why you want to cancel your subscription.
Tap Submit when you're done.
You will get a confirmation email sent to your registered email address.
Can you cancel TruthFinder at any time?
Yes, you can cancel your TruthFinder account at any time. You can cancel TruthFinder online, over the phone, and also cancel TruthFinder by email.
Truthfinder Phone Number
To contact TruthFinder customer care by phone please ring; tel: 1+800-699-8081 to cancel TruthFinder.
Where is TruthFinder located?
Truthfinder, Inc. is located in San Diego, CA, United States, and is part of the Other Information Services Industry.
Is using TruthFinder illegal?
Using Truthfinder to search for someone is not illegal, every information you get on TruthFinder is legally sourced, also the searches are anonymous so no one can find out that you've tried to carry out a search using TruthFinder.
Is TruthFinder free?
Truth Finder is not free to use, they have different pricing plans and you can select one that suits your budget. You can use the free search on the website that doesn't require you to create an account, although the information/results of the free search are very basic.
TruthFinder Cost
TruthFinder offers three types of membership plans, the quarterly membership plan which is cheaper to purchase, the monthly membership plan, and the phone number look-up plan.
The quarterly membership costs aroun$26 per month, but you will be billed for the first three months on the first day and every 3 months thereafter until the subscription is canceled. The monthly subscription costs $30 per month. They also have a phone number look-up plan that costs just $2 per month.
Is TruthFinder Safe?
TruthFinder is very safe, on the TruthFinder website they advised,  "Running a public records search on TruthFinder is safe, secure, and completely confidential. Using TruthFinder will not give your computer a virus or make you vulnerable to hackers. In fact, we go to great lengths to make our site as safe and secure as possible".
Is TruthFinder legit?
TruthFinder is legit, their mission is to give all our members more value than they expect every time they pull an online background report. You can use TruthFinder to find old friends, identify unknown callers, or research your date. Professionals use it to find new customers or to prevent fraud.
TruthFinder seems to be a legitimate information-gathering service provider. If you use online dating sites such as Badoo premium, you will find this website useful
Just like Spokeo, TruthFinder offers a safe and confidential way to find information about someone and is able to do this by using court records, property records, social networks, consumer and business records.
They reveal information such as personal details, criminal records, sex offenses, and DUIs. You can also use the TruthFinder reverse phone lookup.